World Series press pins have been manufactured for each Fall Classic since 1911. Since then the home team has designed a pin to be distributed to members of the press. Originally meant to be worn on a jacket lapel, the pins are generally small but attractive. As you know, the Phillies have been to seven World Series in their history - and a pin exists for each of those events (except 2009...more information on that below).
Key things to have in mind when considering purchasing a World Series pin are authenticity and condition. Like many other vintage collectibles, reproduction pieces exist in the market. Before plunking down any serious cash, do your homework and get familiar with the details of the pin you're looking to purchase. For example, authentic pins will have the maker stamp on the back - find out which company made the pin that year and match it up. It should be a red flag if the mark is missing, or it is for a different company. And, lastly, what is the overall condition of the pin? Is it complete/intact? Does it have scratching, or cracking?
Below is a quick reference for the pins distributed by the team for their home World Series games:
1915
Manufacturer: J.E. Caldwell and Company
Pin Type: Pin back
1950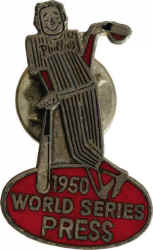 Manufacturer: Marlin
Pin Type: Thread Post
1980
Manufacturer: Balfour
Pin Type: Needle Post
1983
Manufacturer: Balfour
Pin Type: Needle Post
1993
Manufacturer: Balfour
Pin Type: Needle Post
2008
Manufacturer: If you know, let me know...
Pin Type: Needle Post
2009
The Phillies did not have press pins created for the 2009 World Series. In an unusual move, the team purchased stock from the CBP Majestic Store and handed them out to members of the press. The pins featured the logos from both the Phillies and Yankees - along with the World Series logo.
There are also "phantom" pins for near-miss seasons - 1964, 1976, 1977 and 1981, but I'll save those for another entry...